​Public Shopping | November 17-19
​

Shop tons of quality items sold by hundreds of families over one week!




​Saving you time and money!
We know how important it is to get what your kids need at the prices you love.
You can get great deals at Just Between Friends in a variety of ways!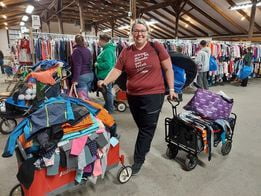 Can I bring a WAGON or CART to haul around my awesome finds?
Answer: Absolutely!
Lots of shoppers bring wagons so they can stock up on everything they need for their kids for the next 6 months! We do have a hold area available, and IKEA bags you may borrow, and a limited number of shopping carts BUT wagons can hold a lot more stuff. If you have one, bring one!
We love happy shoppers! Here's what they have to say.
They have everything kid related.
Having everything kid related in one location is awesome. I plan to shop/spend each sale so my kids are assured that Mom will say "yes!" to at least some of the "look Mom!" items they find.

• Becky V
Great way to buy a season's worth!
This is a great way to buy a season's worth of clothes for all your littles! Great variety!

• Barbara H
I love it every time!
I love it every time. And I finally got my friend to come this past sale and she was in awe of the savings. She'll be coming back for sure!
• Victoria V
Frequently Asked Questions