Find your shopping time, get your tickets!
We know how important it is to get what your kids need at the prices you love. You can get great deals at Just Between Friends in a variety of ways!
Ready to Shop like a ROCKSTAR!
🎸


Get in early, browse the biggest selection and score the lowest prices by shopping early!

Admission varies depending on entry times. Advanced Tickets are Required for the Presale.
*Note: No children under the age 12 are permitted, unless infants worn or secured in a stroller. Wagons and carts are okay.
General Admission is $3 at the door or you can get in FREE with a pass!

This sale features Spring/Summer clothing and shoes plus everything else related to kids and pregnancy. Grab a friend or family member and stock up on everything for the next 6 months!

Ready, Set, Go! If you want first dibs on the half-price items, you will want to shop during this presale! Items without a star on the tag are 50% off!
The LAST DAY to save! Items without a star are
50% off!
​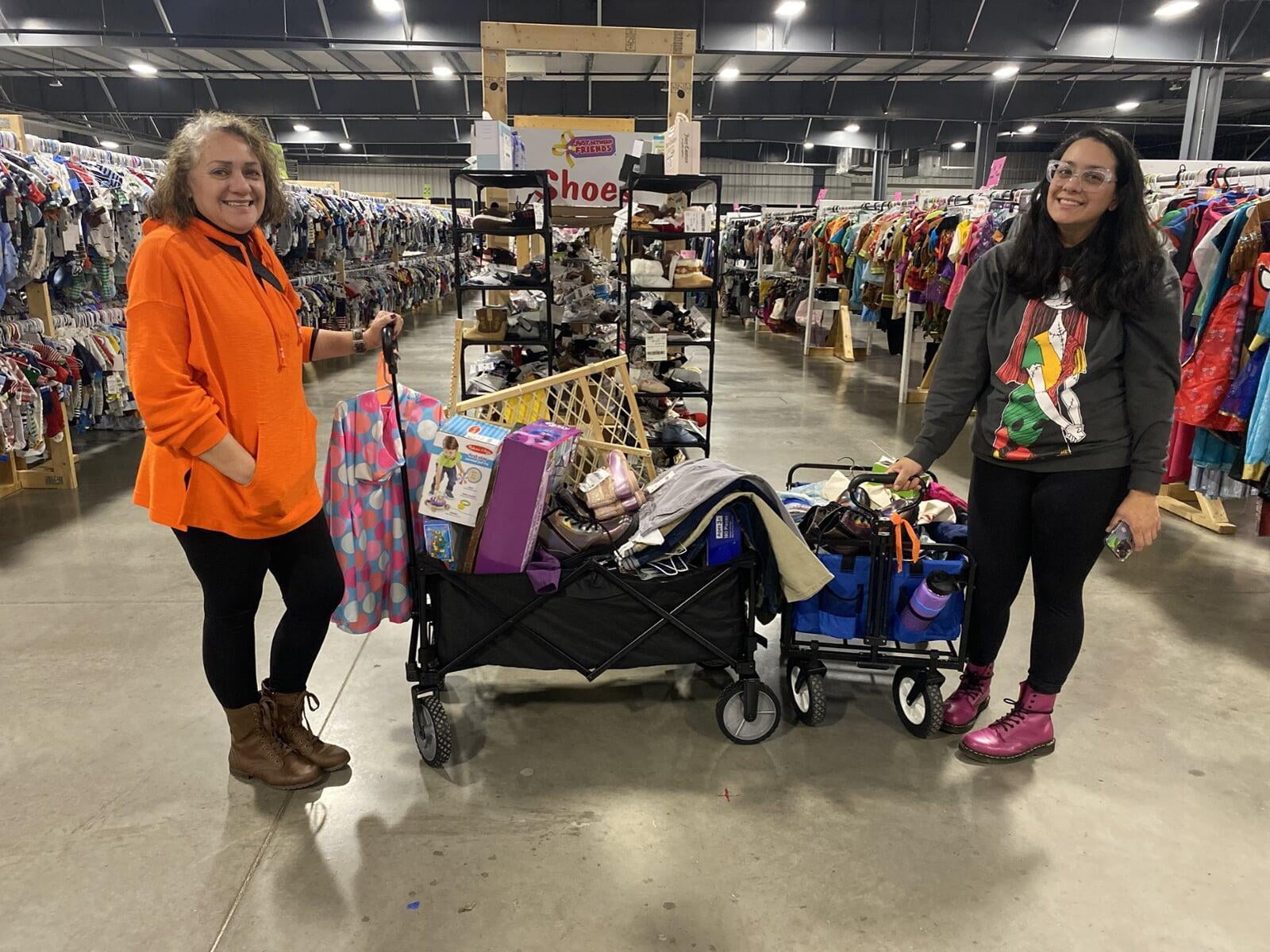 Can I bring a WAGON or CART to haul around my awesome finds?
Answer: Absolutely!
Lots of shoppers bring wagons so they can stock up on everything they need for their kids for the next 6 months! We do have a hold area available, and IKEA bags you may borrow, and a limited number of shopping carts BUT wagons can hold a lot more stuff. If you have one, bring one!
We love happy shoppers! Here's what they have to say.
They have everything kid related.
Having everything kid related in one location is awesome. I plan to shop/spend each sale so my kids are assured that Mom will say "yes!" to at least some of the "look Mom!" items they find.

• Becky V
Great way to buy a season's worth!
This is a great way to buy a season's worth of clothes for all your littles! Great variety!

• Barbara H
I love it every time!
I love it every time. And I finally got my friend to come this past sale and she was in awe of the savings. She'll be coming back for sure!
• Victoria V
Frequently Asked Questions (Shoppers)

Is the sale free and open to the public?
Yes - we are open to the public. General admission is $3 at the door, but you can get a FREE ticket below.

How can I shop early?
The Presale is an exclusive opportunity to shop at Just Between Friends early, BEFORE we open to the general public. It is perfect for First-Time Parents, Grandparents, Teachers, and ANYONE who wants access to the largest selection and the best prices! Shopping times are spread out for each presale group. If you WORK or SELL with us, you can also invite a guest to shop early!
How can I participate as a Consignor/Seller at the event?
Go to our SELL page to find out more or go HERE to get registered!

Where are you located?
The sale is conveniently located at The Fairgrounds Nashville (Expo 2), 401 Wingrove St, Nashville, TN 37203. There is ample parking, however the Fairgrounds may charge for parking on some days.

How often do you have these sales?
The sale only happens twice a year spring/summer is typically in March/April and fall/winter is usually in October, so you cannot afford to miss it!


What can I expect to find at the sale?
Clothes for ages newborn to teen and maternity, baby gear & equipment, outdoor & indoor toys, books, games, feeding & bathing items, shoes, bedding, room decor, sports equipment, electronics, musical instruments, maternity items, baby & child furniture, outerwear, costumes, ride-ons, strollers and so much more at prices 50-90% off retail!


I have never been to one of these before. What do I need to know?
Our events are like a HUGE Multi-family Community Sale. What sets us apart is that our events are super-organized and items must meet certain quality standards (unlike a garage sale), and are checked for recalls! Consignors set their own prices (new and gently-used items) and drop them off the week of the sale. We inspect the items for quality and organize everything like a department store for maximum shoppability!

To maximize your shopping experience, shop as early as your schedule allows, then double back on the discount days (especially to stock up on clothing). If you see an item you want, get it because it will not be there for long! Bring a list, wear comfortable shoes, a bottle of water/snack, and give yourself at least a 2 hours to shop! The sales floor is close to 30,000 sq. ft., and there will be over 80,000++ children's, teen, and maternity items to choose from.

Note: Sellers are given an opportunity to bring additional items if they needed, on Thursday night. So, there will typically be some new merchandise on Friday. We cannot predict what they will bring, so shop often!

Will you have shopping carts or bags to shop with?
We will have limited number of shopping carts and large IKEA bags that you can use. Our seasoned shoppers find bringing a wagon guarantees them a hands-free shopping experience! We also have a HOLD AREA for large items and if you need to set down bags and free your arms up!
What forms of payment do you accept?
For your convenience, we accept cash, VISA, MC and Discover. We do not charge a usage fee for credit cards.
Are children, strollers, and wagons welcome?
Wednesday Presales - NO children under age 12 are allowed, unless infants worn or secured in a stroller. Strollers & wagons are okay!

Thursday-Saturday - YES to all




What about COVID-19?
The Fairgrounds Nashville is currently no longer under a mask mandate. We will continue to monitor and follow the guidelines from the Center for Disease Control (CDC), as well as all recommendations from the Metro Department of Health. The health and safety of our Shoppers, Sellers, and Team Members remains our #1 priority!